I'm back from Puyullap. It ws my first drive across Washington. I suppose that eventually it will become more mundane, but it was a beautiful and varied drive that surprised me. It started with rolling hills of pine trees west of Spokane, then endless plains through the middle of the state, then sorta like high desert, then across the Columbia River and up past forests and lakes across the Snoqualmie Pass. I intended to take pics on the drive back, but it poured rain most of the trip, and besides, I was like the mule heading for the barn, and focused on getting back home. I'm sure I'll be back again.
I'm glad to say that Cosmos is much better. Here he is expressing displeasure over his fine "elizibethan collar" (LOL),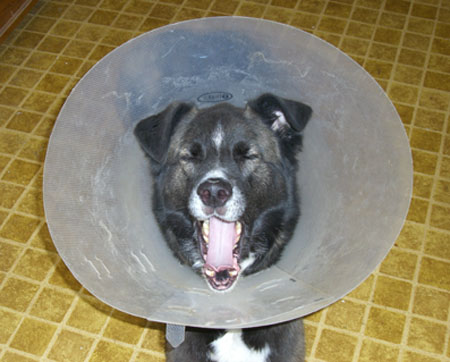 but he has discovered the joy of pills buried in bits of hot dog. His little brother, Batman
pays VERY close attention to the hot dog bits, and when one (containing the pain pill for an 80 lb. dog) bounced off Cosmos' nose, he grabbed it up like the little snake that he is. He spent most of the day sleeping it off on the couch.
I'm back to wearing my GPS hat. I'll be doing some training in Pampa, Texas next week, so if anyone is near there and wants to get together next Monday evening, beam me an email.
Thanks for the get-well posts. I read them to Cosmos, and he thought they were mighty fine.
Linda